The circular economy explained
An economy that consists of extracting natural materials which then flow in a straight line from production to landfill, is known as a linear economy. This traditional method produces an excessive amount of wasted materials and pollution – which equates to a large factor in our current climate crisis.
It's well documented that significant changes are required to improve the rate of climate change. One of the latest approaches to the traditional production and consumption cycle is known as the circular economy.
A circular economy involves reusing, repairing and refurbishing existing products to keep them in service for as long as possible, therefore increasing the longevity of the product and reducing the amount of wasted products and materials that go into landfill.
So what are we doing to help?
The circular initiative has been a key feature of our process for many years and has a fundamental impact on many of our design concepts.
The first stage in the manufacturing process is sourcing materials and instilled in the DNA of our purchasing strategy is a desire to source materials with recycled content. For example, our heritage luminaires are manufactured from aluminium, 95% of which is recycled. Approximately 75% of all aluminium produced in history (nearly a billion tons), is still in use.
At Pudsey Diamond, we take pride in sourcing materials from our home market wherever possible, to reduce carbon emissions from unnecessary transport and support the local economy.
Product longevity
As manufacturers, we are one of the first stages in the supply chain and have a responsibility to create products that are made to last. We manage each stage of our manufacturing processes at our factory in Hampshire, allowing our team to ensure excellent quality control. It's widely understood that buying lower-priced products often lead to issues further along the line, and that's why we feel strongly about investing in products and services you can truly rely on whilst reducing the amount of products that go to landfill.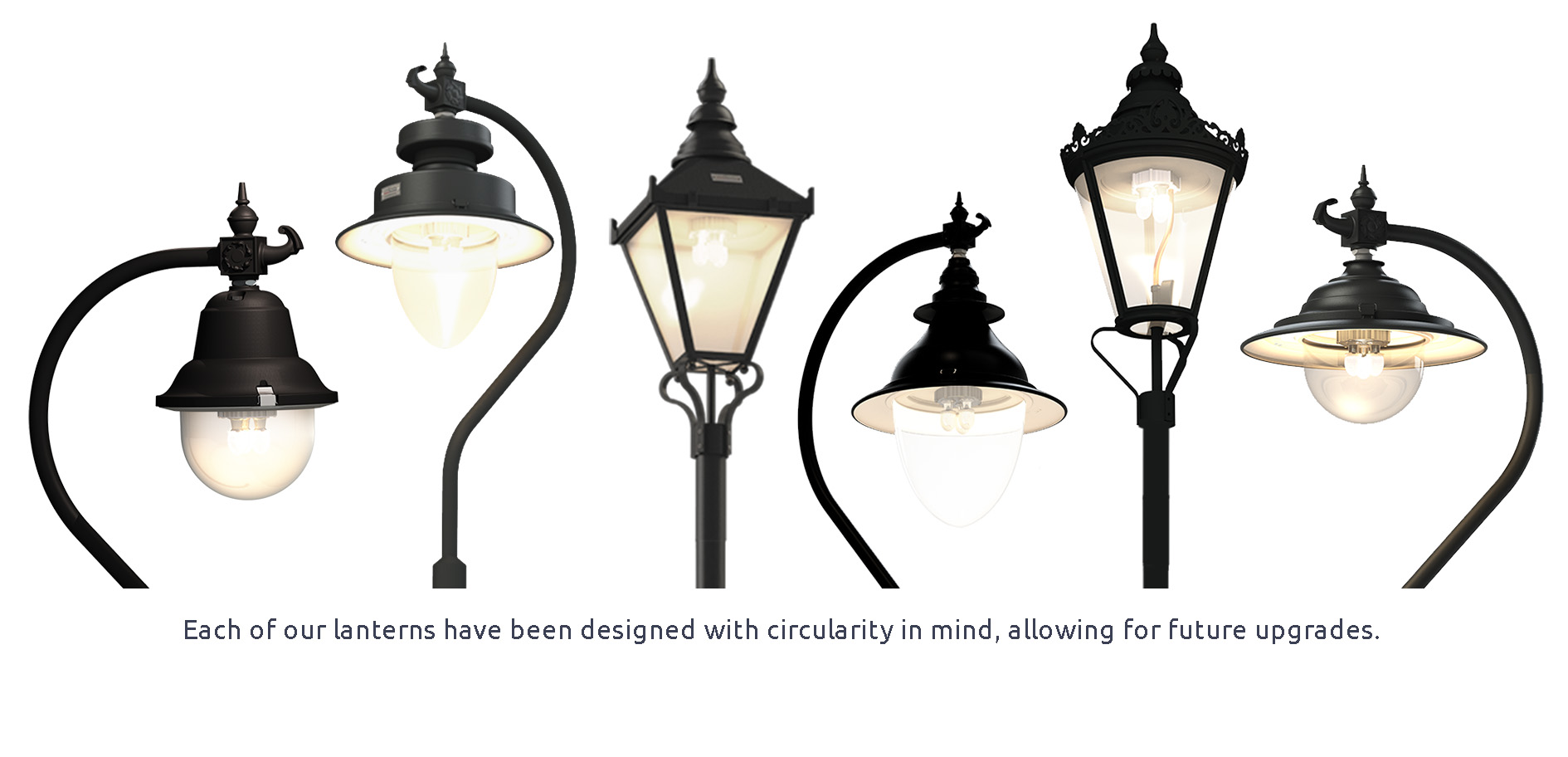 Product refurbishment
Manufacturing products that are easy to refurbish and reuse has always been a key aspect of our product development processes. When designing our heritage lanterns, we ensured that each element is fully replaceable - allowing for ongoing upgrades and refurbishment works in the years to come.
Not only are our products easily refurbished but we also supply various metalwork solutions that help our customers to continue using existing assets. For example, our column sleeves allow for the installation of energy-saving LED lighting without replacing existing columns. Replacing existing lanterns with LED technology usually requires raising the height of the column and changing the angle or outreach. Adding one of our column sleeves to existing concrete columns dramatically extends their service life – reducing the amount of products going for disposal and not only removes the cost of replacing the column itself, but the associated cost of disconnecting/reconnecting the electrical supply - providing an energy saving solution that supports a circular economy.
Recycling
Although the aim is to re-use goods for as long as possible it is inevitable that some products will eventually need to be disposed of, and in order to maintain a circular model it is important that the materials are able to be recycled.
Our bracketry and feeder pillar products are made from galvanised steel, which is one of the most recyclable metals and can be recycled without a loss in quality. Similarly our traffic bollards are made from fully recyclable materials. (Excluding graphics)
Conclusion
In order to implement circularity into the production and use of goods, it is incredibly important for us all to make changes to our current processes. Finding sustainable solutions can be difficult, but as manufacturers our focus and commitment is on producing products that are made to last and that can easily be reused, refurbished and recycled, helping our customers reduce their carbon footprint. Contact our friendly team today for further details on our product range or for help and advice with bespoke requirements.